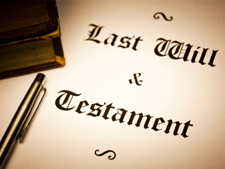 Must I make a Will in Spain?
Must I make a Will in Spain?
This is a question that many of our clients raise, especially after buying a property in Spain.
Well, the answer to the question is this: You MUST not but you SHOULD.
If you are a foreign citizen and you haven't signed a Will in Spain, your heirs will have to prove that they are entitled to receive your inheritance, via a "Grant of Probate", or it's equivalent. Also, In order to be recognized in Spain, any foreign document will need to be stamped with a special seal called "Apostille", translated officially into Spanish, and sent to Spain. If instead of only one, you appointed several executors (and forgot to mention that any of them could do this work) they all together will have to give a power of attorney to a Spanish solicitor, or they might be obliged to come to Spain, at your heir's expense, to sign the necessary documents.
As you can imagine, the process is lengthy and can be costly, therefore, though it is not a must, it is highly advisable to make a Spanish Will if you want to make the process easier and you care about your benefactors receiving what they are due according to your wishes.
But that's not the only reason to make a will in Spain. The new Succession Regulation (EU) 650/12 of the European Parliament entered into force in Spain on the 17th August 2015, affecting foreign owners of properties in Spain who are (or will be) resident in this country, and in some way it might also affect those who may be considered resident by forced heirs. Under this new Regulation, any EU national who has property in Spain can choose either the law of the country of their habitual residence, or the law of their nationality to rule his inheritance. If no choice is made, then the default position is that the succession of their estate will be governed by the State of their habitual residence. In Spain, this means that both descendants (children or grandchildren) and ascendants (parents or grandparents) will inherit with priority over a surviving spouse, meaning that any previous will that may have been prepared, if unchecked, may be successfully contested by forced heirs under Spanish Succession Laws, unless the will specifically states that it be governed by his own national law.
We have been arranging Wills for our clients for over 25 years, giving us valuable experience in this field. The Will is prepared in a bilingual format (Spanish and English). The original will remain at the Notary and a copy is sent by the Notary to the Central Registry of Wills in Madrid. We will provide you with both hard and electronic copies, and if you wish we will keep a copy in our files.
Please CLICK HERE to read more about our Wills service