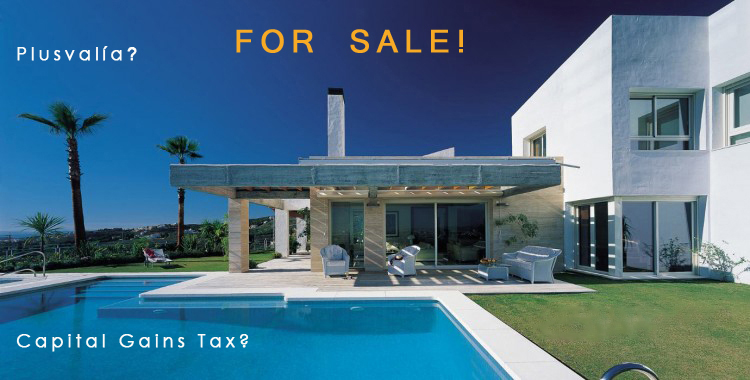 Plusvalia & Capital Gains Tax for Non Residents in Spain
When you sell a property in Spain, you have to pay two different taxes: Plusvalia (in Spanish "Impuesto sobre el Incremento de Valor de los Terrenos de Naturaleza Urbana" or IIVTNU) and Capital Gains Tax (in Spanish "Impuesto sobre la Ganancia Patrimonial").
PLUSVALIA. This is a municipal tax payable to the local council ("Ayuntamiento"), based on the increase of the official value of the land between the purchase and the sale dates. Believe it or not, the official price of the land always increases in Spain….
The increase in the value of the property is calculated by taking the catastral value of the property at the time of selling (this is a value stated on the Rates bill issued by the local Town Hall). You then multiply this by the annual rate that has been set by the local municipal council, taking into account the number of years you have had the property. Therefore, the factor that most affects the value of the Plusvalia is the number of years that you have owned the property. You will always pay an expensive plusvalia when you have owned a property for many years, while if you sell your property only 2 or 3 years after buying it, you will pay very little or nothing at all if you sell within 12 months after the purchase.
So, when comparing this tax with the Capital Gains Tax (CGT), the main difference is that the latter is fairer because it is based on the actual profit obtained with the sale, while the Plusvalia doesn't reflect the real profit (or loss) obtained.
Several Spanish Court Decisions have ruled that the way this tax is calculated in not legal, in cases where the sale price is lower than the purchase price. Therefore the Spanish government is expected to pass a new law modifying this tax. However, this legal modification is not in force yet, so at  present, (August 2021), and particularly if you are Non Resident, the Plusvalia needs to be paid as it has been up to now. In some cases, however, a refund can be requested afterwards. If you are selling for a lower price than you paid for your property, you have a high chance of avoiding this tax (if you are resident) or of requesting a refund (if you are not a resident). However, you will need to prove that you have really made a loss. Sometimes it can be enough with the price stated in the purchase and sale deeds, but in other cases you will need to add more evidence of your loss.
Capital Gains Tax (CGT). This tax is collected by the National Tax Office (Agencia Tributaria). Unlike the plusvalia, this tax is fairer because it is based on the actual profit obtained. Currently, Non Residents in Spain (but residents in EU countries) have to pay 19% on the profit. However, it is important to know that even if you are making no profit at all, due to you being a Non Resident, the buyer of your property will be obliged to retain 3% of the sale price on account of your possible tax liability. Of course, if you have no tax liability at all because you are losing money with the sale, or your liability is less than the 3% retained, you will be entitled to a total or partial tax rebate, depending on the case. Please note that: 1) The Tax Office will take between 6 to 10 months to pay the refund, and 2) Before paying the refund, the Tax Office will check that you have been paying your Non Resident Income Tax