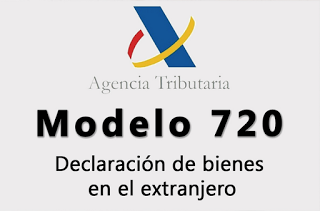 The form 720. Declaration of assets abroad
Since 2013, Spanish tax residents with assets overseas valued in excess of €50,000 are obliged to submit the Form 720 to the tax office annually, and different penalties are payable for late submission.
First of all, it is important to point out that this only applies to RESIDENTS in Spain. If you spend less than 6 months in a natural year in Spain and you are paying your taxes in another country, this does not affect to you.
So assuming that you are resident in Spain, let's make sure if you really meet the criteria to have the obligation to submit this form:
You hold assets ABROAD that exceed €50.000,00 in value in any of the following:
Bank accounts
Investments, such as stocks and shares, rights, etc.
Real estate and rights on real estate located abroad.
If you have more than €50.000 Euros spread across the 3 listed asset types, but lower that 50.000 in any single asset type, you DO NOT need to submit the form 720.
If you are one of the "lucky ones" who needs to submit the form, don't worry, it's not the end of the world! This is supposed to be just an informative declaration and you don't need to pay any tax on these assets here in Spain. However, you have to be aware that the Tax Office will check whether your wealth matches with the tax returns that you have been declaring every year, and an investigation might be carried out to determine if you have been declaring all your income during the last 4 years.
Once you have submitted your first Form 720, you  will only have to do it again, if:
The existing balance, concerning each of the groups of assets referred to, suffers an increase of more than 20.000€ against the last declared value (last declaration submitted).

You do not own (because you have sold/cancelled) any of the assets previously declared.

You have transferred any of your assets into other shares/accounts/investments (with different account/bond numbers to those previously declared).
It goes without saying that at Bravo Legal, we would be very happy to deal with this for you, so please fill out the following form and we will provide you with more information about our fees, etc. without any commitment.