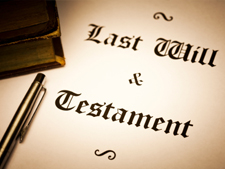 Must I make a Will in Spain?
This is a question that many of our clients raise, especially after buying a property in Spain.
Well, the answer to the question is this: You MUST not but you SHOULD.
If you are a British citizen (but it is very similar for other nationalities), and you haven't signed a Will in Spain, your heirs will have to prove that they are entitled to receive your inheritance, via a "Grant of Probate", or it's equivalent. Also, In order to be recognized in Spain, any foreign document will need to be stamped with a special seal called "Apostille", translated officially into Spanish, and sent to Spain. If instead of only one, you appointed several executors (and forgot to mention that any of them could do this work) they all together will have to give a power of attorney to a Spanish solicitor, or they might be obliged to come to Spain, at your heir's expense, to sign the necessary documents.
As you can imagine, the process is lengthy and can be costly, therefore, though it is not a must, it is highly advisable to make a Spanish Will and helps makes the process of inheritance much easier for those left behind giving you peace of mind that your benefactors receive what they are due according to your wishes.
This is where we can help. We have been arranging Wills for our clients for over 20 years, giving us valuable experience in this field. This together with our legal knowledge of the inheritance process helps to make things very easy for you. If you would like us to arrange your Spanish Will, please spend a few moments filling out this form providing us with some personal details and stating to whom you want to leave your assets in Spain. We will then prepare a draft of the Will, and once you have approved it, we will arrange an appointment with the Notary, where you will sign your Will, with us acting as translators.
The Will is prepared in a bilingual format (Spanish and English), the original will remains at the Notary and is registered in Madrid and we will provide you with both hard and electronic copies, and if you wish we will keep a copy in our files.
The total cost for doing a basic Will, including our fees plus the Notary costs and the VAT, is 300,00 Euros. Should a couple wish to do their Wills together, each partner has to do their own, at a total cost of 500,00 Euros, based on both members of the couple attending the Notary at the same time.
If you have any question about how to do your will, or should you need help filling in the form, please send an email to wills@bravolegal.es
Miguel Angel Bravo
Lawyer